Travel Deal!
15% Discount on all Full-Day or Multi-Day Vehicle Rentals
Must mention KWFINEST for discount.
Excludes the all new JL Wrangler.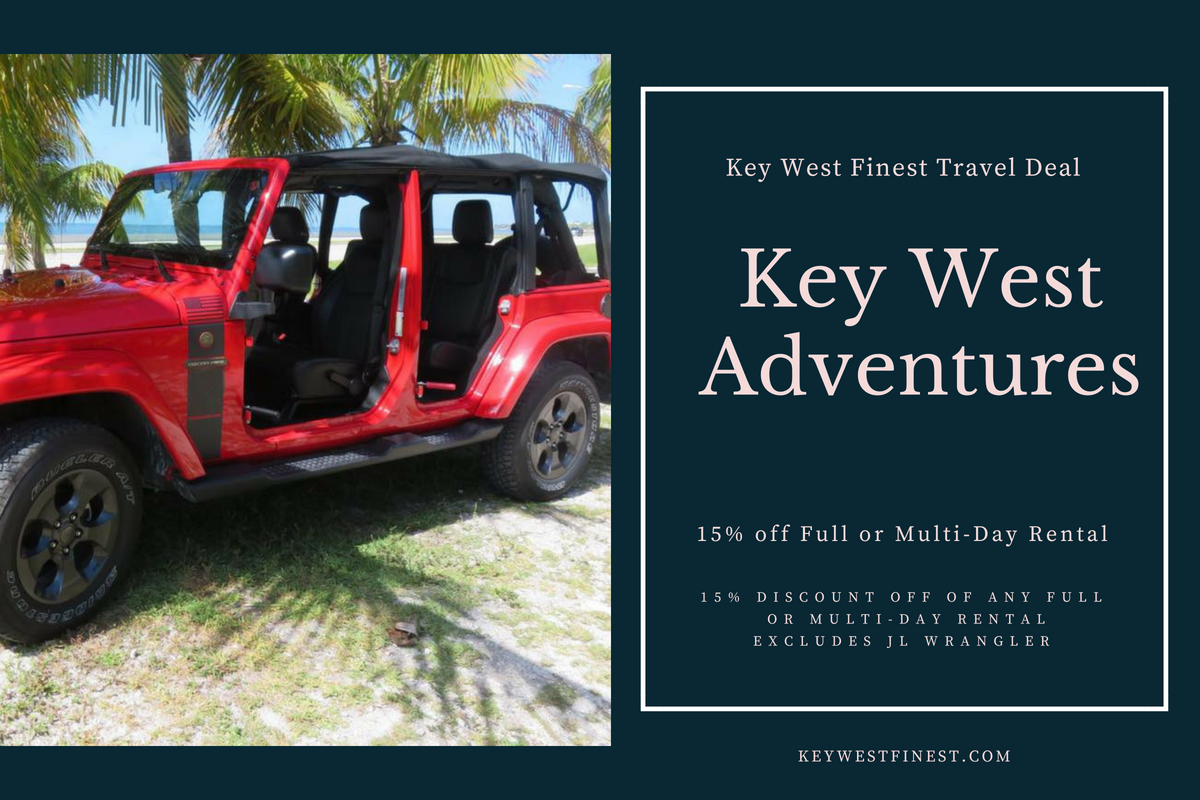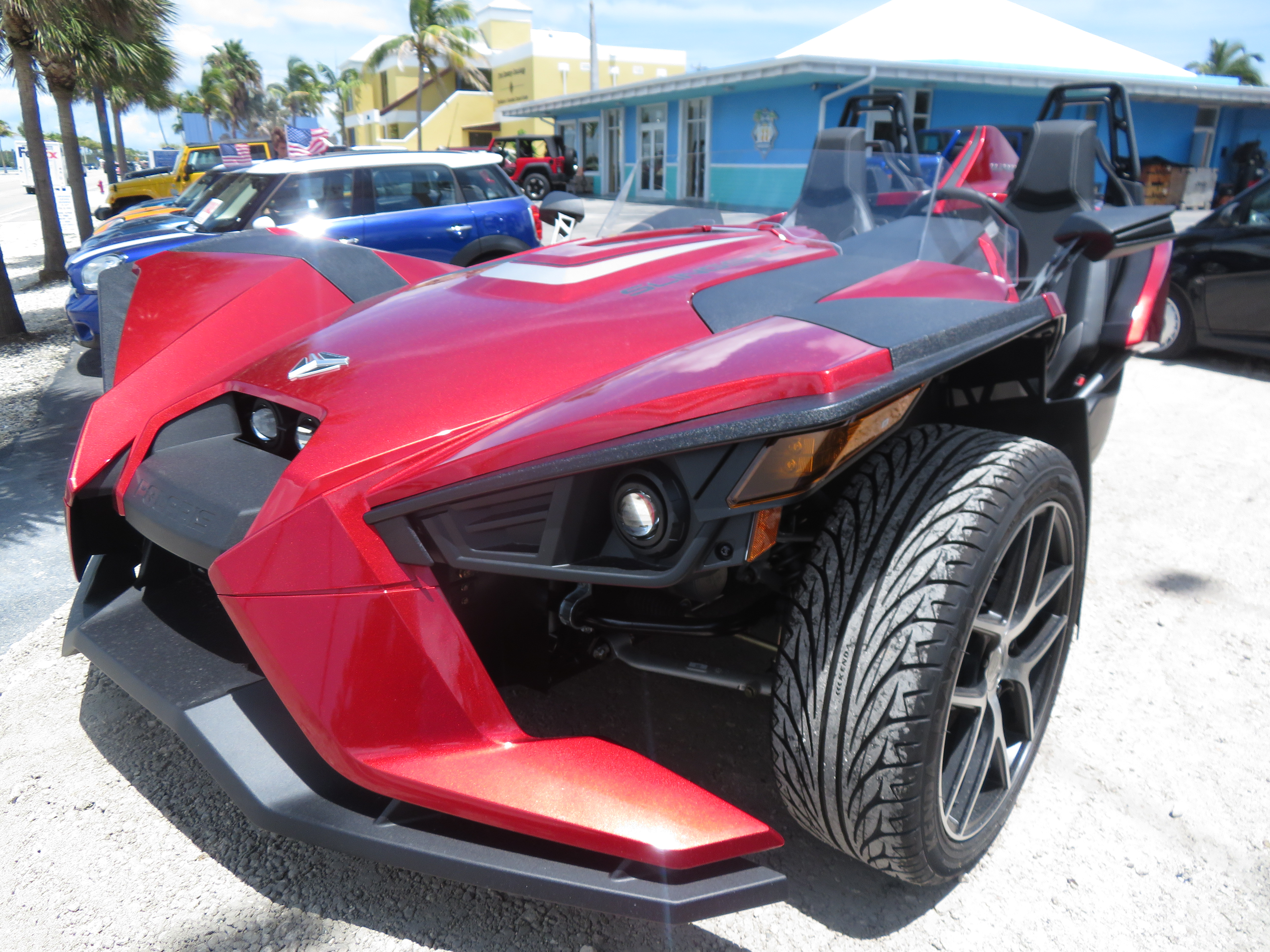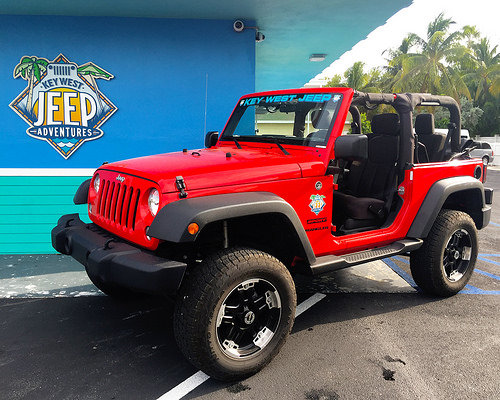 Are you ready for a Key West Jeep Adventure? Now, all you have to do is choose which Jeep you want. They've got a wide selection of Jeeps to choose from. Whether you want a 2-door or 4-door, soft top, hard top or no top at all, they've got the perfect Jeep to suit your style and needs. Scroll through the photos of the Jeep fleet and pick the one you want. They also have minivans and basic cars available. Or choose the street legal ATV Oreion Reeper, in 2 door or 4 door models (manual transmission only). All of our Jeeps are late models with automatic transmission and air conditioning. Rain in the forecast? No problem. Lightweight, easy to install covers are included in the event of an overnight drizzle. They will gladly install your Jeep's top and doors in the event of a rain day, and take them back off when the sun comes out. The Jeeps include coded lockboxes to keep your belongings safe while you're at the beach or out on a bike ride. Choose beach chairs and umbrellas today, grab bicycles tomorrow, and paddleboards the day after. See more of the keys and be seen more in the keys in a Key West Jeep!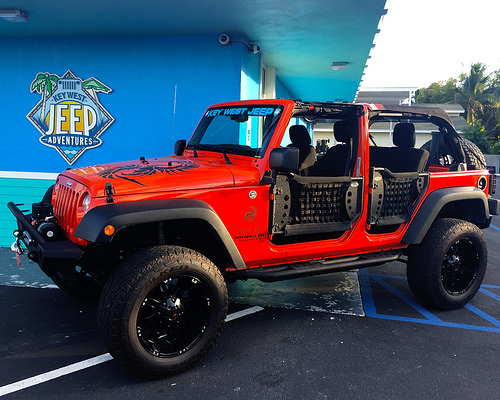 Convertibles! If you're dreaming of feeling the wind through your hair and the sun on your cheeks, choose our convertible Jeep for the ultimate experience. Whether you want the top on/off, doors on/off, we'll customize it for you however you wish so all you have to do is hop in and head out.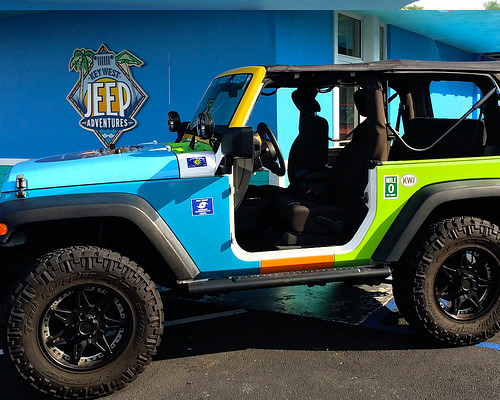 Customized! For those of you who wish to see and be seen, throw in a lift kit and add the monster truck appeal to your jeep. You'll ride around the island in style and add another element of excitement to your Key West Jeep adventure.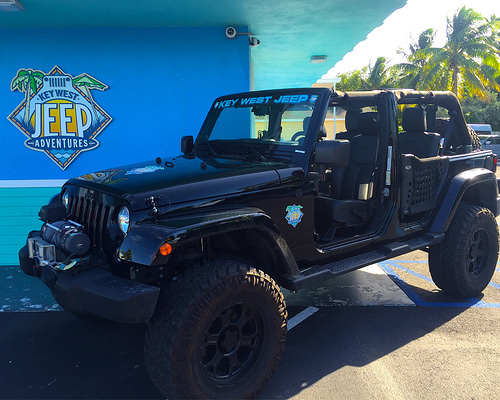 Book Direct & Save
Mention KWFINEST for the discount!
One of the best ways to cruise around Key West is in an open-air vehicle.  If you like feeling safe and secure high above the scooters and electric cars then you will love the awesome feeling of riding in a cool Jeep! I love the 2 door red one, the 4 door purple one with the doors off and the 4 door bright green one with doors off, top open and music blasting! I love, love, love cruising down Duval at night in the Jeeps! I also love driving up the Keys to go boating or kayaking and exploring in the Jeeps.  They can hook you up with extra gear like coolers & beach chairs too! Be sure to tell them that Amber sent you!
They will pick you up and return to your hotel/condo/home for your convenience. We love to hear where you went and what you saw in your Jeep!
More Hotels, Motels & Resorts