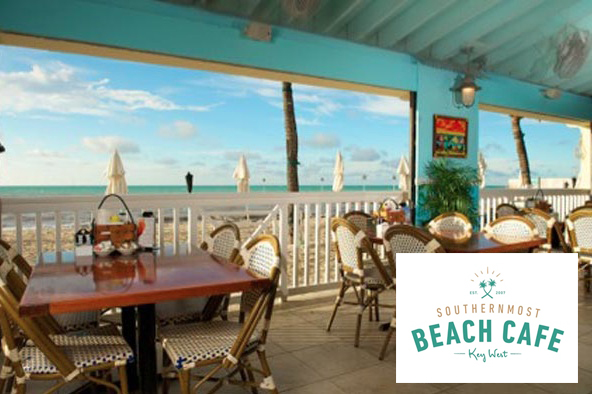 Oceanfront dining for breakfast, lunch, dinner and special events on the beach!
1405 Duval Street
(305) 295-6550
Add to your Key West "must do" list eating at Key West restaurants on the water! Start with incomparable oceanfront dining at the closest restaurant this side of Cuba, the Southernmost Beach Café, a short walk from the famed buoy.
From humble beginnings on Tennessee Williams' favorite bathing beach, this popular, casual eatery is surrounded by and part of the Southernmost Beach Resort.  The waterfront venue boasts an unobstructed view of South Beach, the best beach in town for people watching or catching a wave.
The sunny yellow restaurant exterior, woven bistro chairs, turquoise walls and vibrant local artwork envelope you in island charm. Yes, that is sand in your shoes- remember you are at the beach. More cabana than café you think, until you sample the cuisine.
Southernmost Beach Café features a delicious, locally inspired Key West menu including the freshest seafood. Start your day with a breakfast feast as you sip your morning coffee al fresco, or end your night with a romantic candlelight dinner and cocktails as torches illuminate the sand. No matter the time of day, the open air dining experience will delight you.
Flavors of the island, mango, key lime, and coconut, pair effortlessly with Key West pink shrimp or the fresh catch of the day. Savory steaks and chops satisfy heartier appetites. Try the palate pleasing, innovative side dishes, lobster mash or eggplant chips. Desserts are always required when you want to linger- and who wouldn't?
With a large, wrap around gathering bar, you'll be making friends over their signature Rum Runner cocktail, a refreshing respite from lounging in your beach chair just steps away. The Southernmost Beach Café, something you have to experience, again and again.
I love eating at Southernmost Beach Cafe for any meal of the day wether it's breakfast, lunch or dinner becauseIt's on the water so you have a magnificent ocean view! I'd have to say my favorite time to eat there is dinner.  I always go here when I have family in town because it's really a great way to see the best of Key West.  We usually place our order, take a brief stroll out on the pier to catch the last few minutes of the sunset then mosey back to our table only to find they've lit the tiki torches on the beach! The kids can play on the beach while waiting for dinner to arrive which gives the adults have a chance to catch up and visit.
The food is fantastic here thanks to their awesome Chef Matthew Slattery.  Try his Drunken Scallops, they took second place in the Cullinaire Extraordinaire competition this year!
The service is great and you can't beat the food or the atmosphere.  If you happen to be staying at the Southernmost Beach Resort you get charging privileges here which makes it very convenient.
Enjoy!
Southernmost Beach Cafe. Delicious, locally-inspired Key West cuisine? The freshest seafood? Creative cocktails? You'll find it all at one of Key West's most popular local restaurants – Southernmost Beach Cafe. Located right on South Beach – oceanside on the Atlantic end of Duval, it's a beach location like no other and is the most desirable setting in Key West for oceanfront dining and cocktails. Join us for breakfast, lunch or dinner. Or let us cater your event. It's the most picturesque setting for beach weddings and receptions, Key West corporate events, or any other special event you want to have. Whether you're hosting 15 or 150, they can do it all – from accommodating all of your guests to making your dream wedding come true to making your event a success. We'll plan your menu, set up the tents, bar and buffet, bring out the tiki torches, and cater your special occasion – right on the most beautiful beach in Key West.
Love this Restaurant!
Tell them Amber sent you!
Restaurants