Much as we'd like to think so, not everyday is sunny in Key West. At times the clouds appear and bless us with liquid sunshine. Don't let that dampen your spirits. There's plenty to do in Key West no matter the weather.  Here are our top 5 things to do in Key West in the rain…..
1. Hop on the Conch Train or Old Town Trolley Tours
These people think of everything and provide you with a dapper yellow rain slicker during inclement weather. You are sheltered from the elements while you enjoy the historical streets and buildings of Key West. By the time the tour is complete, the sun may be peeking out at you.
2. Explore the Customs House Museum
Not your ordinary museum, the Key West Art & Historical Society has permanent collections as well as seasonally changing exhibits highlighting the history and culture of Key West. Learn about the Overseas Railroad, discover Key West's role in the Civil War, see the work of folk artist Mario Sanchez and view the private collections of some of Key West's prominent citizens. The museum gift shop is a hidden gem to find unique souvenirs to take back home.
3. Hunt for Felines at The Hemingway Home
No visit is complete without a tour of this Key West landmark. Why go on a rainy day? The better to see the polydactyl pets kept by Papa Hemingway. Otherwise known as six-toed cats, these mascots of the property were originally kept as ship's cats by seafaring captains who viewed them as good luck charms. The original white cat, Snowball, given to Hemingway by a captain, sired generations of these unusual cats.
4. A movie marathon at the Tropic Cinema
Take in a movie or two at the certified "Best Movie Theater in Florida." Marilyn Monroe greets you out front, rain or shine. Come inside for a slice of Hollywood glamour in the colorful Art Nouveau decor. Choose from current acclaimed movies, independent films, classic titles and special performances. Don't forget the delicious popcorn doused with real butter while enjoying a bottle of wine or the best organic chocolate. Play it again, Sam.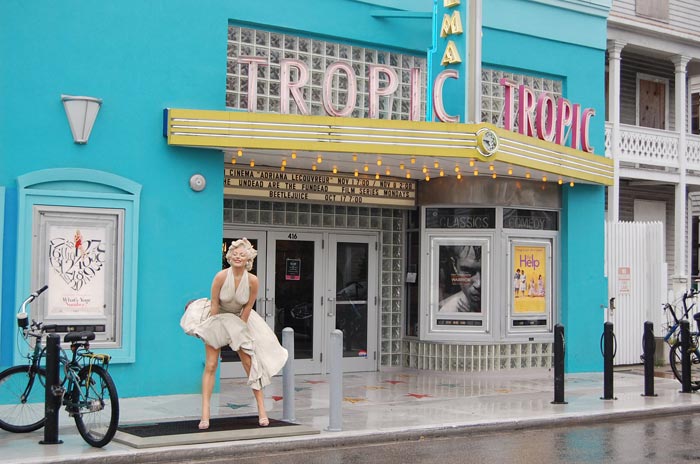 5. Pamper Yourself at the Pier House Spa
You'll be oblivious to the weather or anything else but your sublime comfort at this award winning spa. From head to toe you'll be refreshed and renewed after experiencing all the spa provides. Massage, body treatments, facial, steam room, hot tub. And that's all before the excellently prepared lunch brought to you. Now complete you stay with hair, nail and make-up services. Wonder if it will rain again tomorrow?
We realize that no rainy day would be complete without ducking in to one of the MANY unique Key West watering holes.
Stay tuned for our next blog on the Top Five Places to Get Drunk and Out of the Rain!
Liquid Sunshine, an Umbrella & You!