How many things do you see everyday but never really notice? Not including your spouse that is. The Key West scenery is both a cityscape and a tropical landscape as well. How many of these familiar sights have you never noticed? Here are 5 Things You Never Noticed in Key West!
This vibrant sight is artistic as well as functional. An eye catching feature on a newer Key West building; notice the flame motif on this red railing leading up to the recently completed Old Town Key West Fire Station on the corner of Simonton and Angela Streets. Clever and memorable!
Recognize this famous senior citizen? You won't find her carrying groceries out of a Publix supermarket. This stoic resident is unfazed by rain or sunshine as she stands outside the Custom's House Museum on Front Street, as if waiting for her driver to arrive. She is one of a family of lifelike bronze sculptures on the building's grounds by renowned artist, Seward Johnson.
Is it a castle? Maybe a museum? How have you missed this elegant structure with graceful arches, surrounded by lush greenery? This forgotten beauty was once a school building at the corner of Southard and Margaret Streets. Time may have forgotten the well worn building, but what tales it could tell. Stroll the grounds and you may hear them.
Like a hall of mirrors, the repeating forms of these symmetric brick archways lure you further to discover the majesty of this landmark that has survived the centuries. Have you experienced a walk through history within the West Martello Tower on Atlantic Boulevard? The surrounding gardens tended by the Key West Garden Club are truly amazing, but do not miss the niches and nooks inside.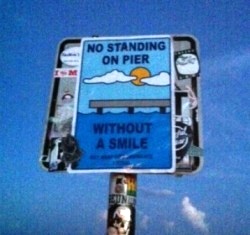 If you spot a pier jutting out into the water, of course you are drawn to walk to the end and take in the view of the amazing, turquoise Atlantic waters. Who bothers to read the signs? This multi-layered, unique warning posted on the pier at the Southern end of Duval Street has the desired effect, to bring a smile to your face. Caught ya!