Leggy bronze statues of namesake birds and a gleaming white balustrade framed by distinctive coral rock announce you have arrived at the impressive Simonton Street address of the Heron House guesthouse. The location of this historic Old Town Inn puts you in the center of all you'll want to see and do in Key West, yet you'll feel miles away the moment you enter the tranquil, lush grounds.  Welcome to a Tradition of Hospitality at Heron House.
The Heron House, built in 1860, is itself a work of art, thanks to meticulous restoration with fine details that are signatures of the Inn. You'll appreciate the hand finished woodwork and marvel at the colors of stained glass windows, and graceful accents found throughout the building.
Amid the Inn's craftsmanship and architecture, discover that modern comforts and Florida charm blend beautifully together in each of the rooms. Tropical furnishings, décor and Key West original art decorate the 23 guestrooms and suites. Experience the casual elegance of this picturesque Inn as you relax in its seclusion or choose to explore all that makes the Heron House so exceptional.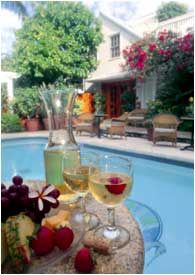 Enjoy the tropical foliage and sweet fragrance of the garden, home to a marvelous collection of exotic orchids. Linger by the pool for a refreshing dip and be calmed and renewed by the privacy of the restful surroundings. As you curl up with a book or gather with friends, your contentment is the priority at the Heron House.
Greet the morning with delicious, complimentary continental breakfast fare, served in the garden if you choose, as you peruse the daily newspaper or plan your adventures. And cap off your day with an evening wine and cheese respite in this tropical paradise. The Innkeepers, famous for their hospitality, are committed to your comfort and relaxation.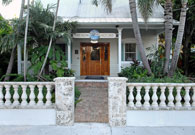 Hospitality knows no bounds at the Heron House, as they have expanded to a second location, Heron House Court on Frances Street in a quiet Old Town neighborhood. Whichever House you choose, you will be eager to return to this Key West tradition.