Imagine a chic and inviting refuge in the heart of Key West's bustling Duval Street corridor. Take a step off Duval and be transported to an unexpected respite amid the flavors and aromas of specially selected wines from around the globe. You have discovered Wine-O, the intriguing wine bar at the La Concha Hotel and Spa.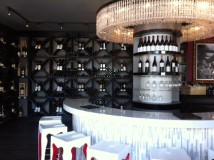 Light sparkles off the magnificent focal point chandelier above the iridescent circular bar. Richly colored walls and deep wood tone cabinetry create the perfect backdrop for the theatrical experience to come. Take a seat at the bar on an elegant, uniquely fashioned barstool and study the vast varietals. Ask for recommendations based on your preferences or be open to explore suggested tasting combinations.
Surrounded by over 200 choices, bottles artfully displayed and lining the walls, settle onto the dramatic, red leather sofa with friends and sample a wine flight to amaze your palate. Add a snack of cheeses or charceuterie to enhance your experience. Each flavor more enticing than the one before.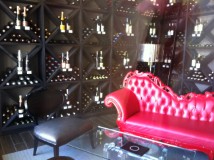 No need to hurry. Take your time and enjoy a bottle with friends as you take in the sights from your window to the world outside. Choose your favorite vintages to bring home with you or have your selections delivered to your hotel room or boat. Be sure to include samplings from the exquisite chocolates also found at Wine-O.
Once you experience the allure of Wine-O, you'll want to join the Wine Club, including preferred benefits for members. Tastings and events are held throughout the year, so be first to know and enjoy your insider perks.
There is a wonderful world waiting for you, an unexpected Key West retreat from the ordinary. Wine-O, just what you're looking for.