Opening Night is April 12, 2012 at 8 PM whick includes After Party in the Sculpture Garden sponsored by Jack Paul.
Regular Performances are April 13 & 14, 2012 (8 PM)
And, there is a low-priced Saturday Matinee on April 14, 2012 at 3 PM
Regular tickets: $25 Students under 25: $10
Featured performers — Carolyn Cooper, Angela Harriell, Jordan Fife Hunt, Denis Hyland, Christina Johnson, Mary Kay Lee & Leigh Pujado
The Key West Citizen writes "Comprised of local and visiting profgessional dance artists, this company has simply never presented a bad show. Hooray and hallelujah — honest-to-god professional dance in Key West!"
Artistic Director Kyla Piscopink will bring her troupe of professional dancers to the WFPH stage in a program titled 1969. Get Back. The music of the late '60s will provide the soundscape for a program that will reflect the turbulent, yet hopeful spirit of that iconic era. This event is part of the mission of the Waterfront Playhouse to collaborate with local arts groups.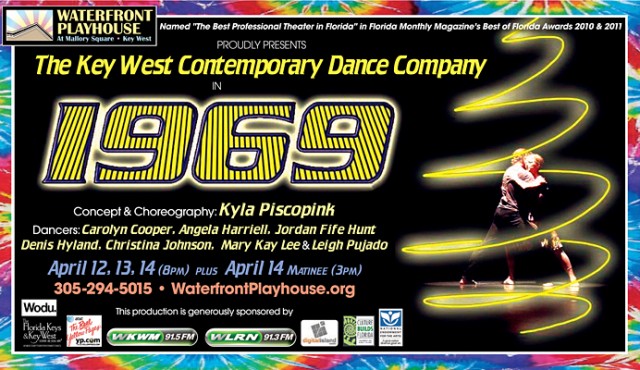 For more Key West attractions and daily Key West hotel discounts, visit keywestfinest.mobi on your smartphone. Click here to download the Key West Finest Places app for your iPhone, or here for your Android phone. You can also join the Key West discussion at conchfish.com