You come to expect the finest in accommodations with the name Marriott. Couple that with the ideal Key West location, the name says it all- Marriott Key West Beachside.  Ahh, let the perfect vacation begin.
Traveling down famous US 1, you know you have arrived in Key West when you are greeted by the Marriott Beachside buildings and grounds. Immense palms, lush greenery and tropical architecture guide your entrance. Venture inside to the elegant and welcoming lobby of dark wood furnishings, marble finishes and classic tropical décor.
Have a refreshing lemon infused water on your way to a friendly and personalized reception. Swiftly accompanied to your room, you enter inside to experience the cool air and the warm luxurious décor, all you expect of first class lodging. You have come to the home of hospitality.
Crisp white linens contrast the rich, dark wood finishes of elegant furnishings. Tasteful, tropically inspired fabrics remind you of your locale, and a glimpse through the window leaves no doubt in your mind. You are in Paradise.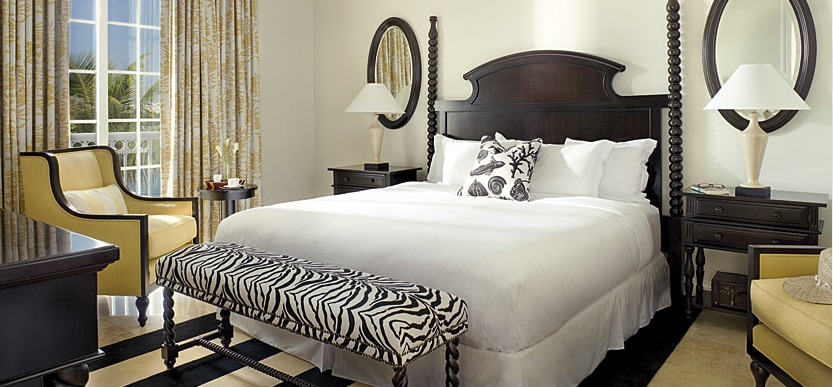 The Presidential Suite features a striking ocean view, fully equipped kitchen, spacious, comfortable living room and plush king size bed. Perfection for entertaining or simply lounging, you are surrounded by style and luxury every moment of your stay. All accommodations at the Marriott Beachside share the attention to detail and classic design that defines their chic aesthetic.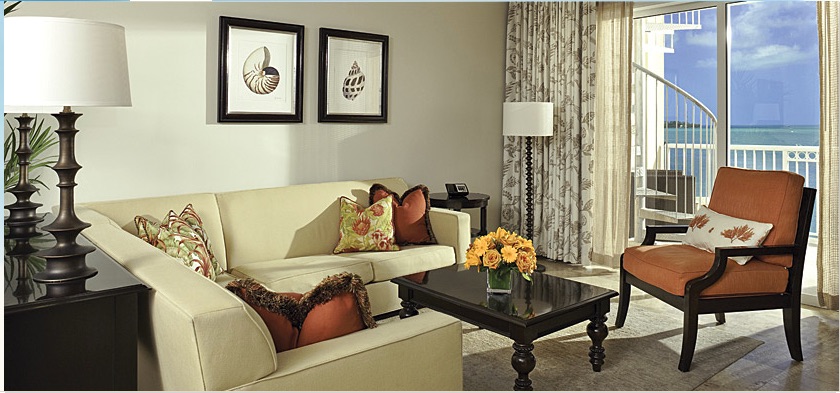 Revitalized, there's no reason to delay your visit to the other reason for your stay, the private onsite beach. The sight of waving palms and white sand quicken your pace. Melt into a plush beachside chaise and run your fingers through the sugary sand. Within moments a thirst-quenching drink from the Blue Bar appears beside you.
If a dip in the pool is more to your liking, the generously sized pool awaits. Retire to a cozy cabana and relaxing gulf views will keep you transfixed for hours. Where has the day gone?
No need to leave your corner of this tropical paradise yet. When considering your dinner plans, the Tavern N Town Restaurant, just off the hotel lobby is a favorite of the locals, so you know it has to be good.
Join the conversations around the four sided bar and try a savory Happy Hour appetizer or fire grilled flat bread pizza with a specialty cocktail or glass of wine. Live piano music accompanies local songsters every evening to create a traditional supper club atmosphere. Be sure to request a rendition of a special sentimental tune.
Settle into a comfortable leather armchair and peruse the menu crafted by chef, Kevin Montoya, boasting surprising choices such as the nightly Fresh Catch as well as all time favorites, steaks, prime rib and the freshest Key West seafood. Start with the signature Caprese salad or the velvety butternut squash soup with sherry. Be entertained by the chefs at work in the open theater kitchen preparing your succulent meal. You must not leave your seat until you have experienced the home made peanut butter ice cream. You're sure to have this delectable treat more than once during your stay.
The Marriott Beachside is not only a vacation destination known for their excellent accommodations and service. A gracious host to weddings, receptions and events in their spacious meeting rooms, they are happy to plan your event and provide all you need for food, refreshments and equipment. Another reason you will want to be at the home of hospitality.
Check Availability for Marriott Key West Beachside