Key West has gone to the dogs- and that's a good thing if your name is Rover, or Lily, or Max. You always hear about the renowned, polydactyl cats made famous by Papa Hemingway, however the dog population easily surpasses island felines. You are practically required to have a dog if you live in Key West! So bring along your best friend when you visit to enjoy all the fun.
Key West has some great "Pet Friendly" hotels.  If you are traveling with Fido you will find great Canine accommodations at Bayside Inn & Suites.  Located in a very dog-friendly, residential neighborhood, the Bayside Inn & Suites is adjacent from a large, grassy dog-walking median with plenty of space for playing fetch or enjoying the view of the Gulf just across the road.  Many of the suites at Bayside Inn are extra large and roomy enough for your Canine family member to feel right at home.  Be sure to check the properties list of guidelines for Fido and tell them Amber from Key West's Finest sent you!
Ever heard the saying that people begin to look like their pets? Or is it the other way around? However you describe it, we have a parade for that. Each year dogs and their owners are dressed and decorated for the Dog Look-Alike contest held during Fantasy Fest week. The resemblance is amazing! Another favorite New Year's Eve event is the Key West Daschund Walk, ten years in the running. No need to look like your little darling, just add a hot dog bun. Imagine 175 Daschunds strutting down Duval Street.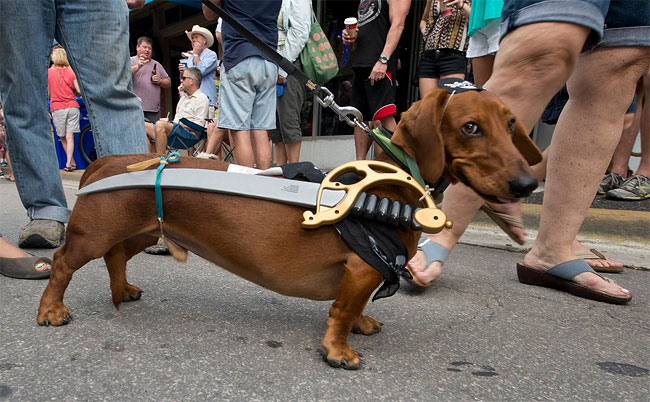 Everyone comes to Key West and heads for the beach. We have a special beach named just for your furry friend- Dog Beach at the end of Vernon Street. Frolic and fetch to his heart's content, splash in the waves and hook up for a play date at nearby Dog Park, next to Higgs Beach. Play freely inside one of two fenced yards. Big dog or small dog, we have a sociable hang out for both you and your pup.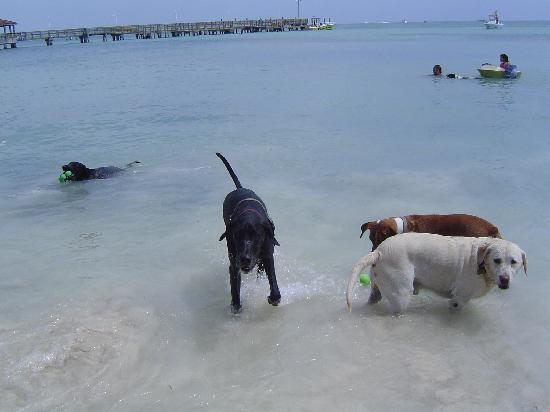 Thanks to the numerous outside restaurants and snack wagons in Key West, Fido is welcome to accompany you while leashed for al fresco dining. Many establishments like Kelly's Caribbean Bar & Grille keep a bowl of water and doggie treats on hand. Always ask first, but you'll usually be greeted with an enthusiastic Yes, followed by a pat on the head. They may even pet your dog, too. Bone appetite.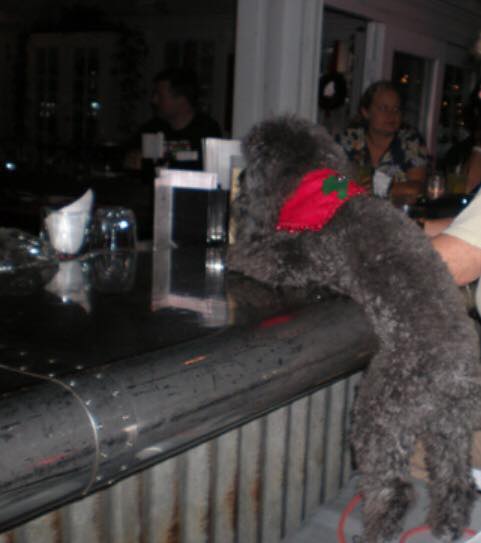 Is your dog up for adventure? You're apt to see plenty of dogs in motion around Key West, as passengers on scooters, in the baskets of bicycles, manning the helm of a boat, or even dog pulling man on skate board down the street.  In Key West, we and our pets are inseparable. One of the reasons dogs are so embraced by the community is because of their responsible owners- do pick up after your pet.
Whatever you're up for on vacation, a canine version of the action is doubly fun.
Ain't so Ruff after all.
It's a dog's life in Key West.