A crisp, cool white, modern silhouette against an azure cloudless sky. You have arrived at the Key West's contemporary dream called Santa Maria Suites, the ultimate luxury. The minimalist architecture of this posh resort contrasts with the maximum in elaborate treatment you'll receive inside its doors.
Sophisticated, classic furnishings and décor grace the luxurious, spacious one and two bedroom suites of this one of a kind boutique hotel. Relax or entertain in the large, airy living room, create your own culinary delights in the first class, fully equipped kitchen, and dream the night away in the ultra comfortable bedroom. The finest finishes of natural stone and wood complement plush designer fabrics. And just outside your door, tranquil garden or poolside views complete your reverie.
Thoughtful amenities abound like no other luxury hotel. From tasty tropical fruit, freshly baked muffins and Dove bars, to pampering bath products, Santa Maria Suites will keep you spoiled your entire effortless visit. Add the convenience of roomy closets and in room washer and dryer to keep your wardrobe fresh.
Time to venture outside your sanctuary and access the sugary sand of the nearby Atlantic beach and feel the ocean breezes across your face. If you prefer, take a dip in your choice of two heated pools just outside your suite and experience the refreshing chilled towels. Poolside refreshments are always complementary.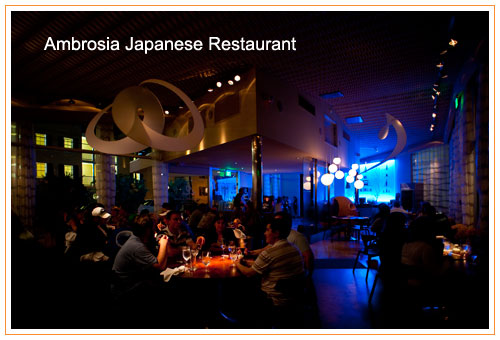 Ready to dine? Walk no further than the Ambrosia Sushi Restaurant adjacent to the garden pool area. Discover the finest sushi as well as an extensive menu of Japanese cuisine and fresh seafood as you relax in the restaurant's serene ambiance. Be sure and sample the bar's wide selection of sake.
Santa Maria Suites is perfect for an intimate getaway, yet the resort is equipped to accommodate a wedding party group or family vacation. The only requirement for an idyllic vacation is a love of being pampered. What are you waiting for?