Sloppy Joe's will host its 20th Annual Dropping of the Conch Shell. Anything goes New Year's Eve in Key West on Duval Street. You'll find people all decked out for the midnight celebration, and folks still in their bathing suits and flip flops when the Conch Shell drops from the roof of Sloppy Joe's Bar.
The idea and implementation of the New Year's Eve Dropping of the Conch Shell is that of local artist Tobias McGregor. In 1993, McGregor approach Sloppy Joe's management about the New Year's Eve plan. "Before the dropping of the Conch Shell, everyone would just wonder around Duval Street, celebrating the New Year when their watches read midnight. The crowd was just not in sync," said McGregor.
Inside on stage New Year's Eve: Barry Cuda Noon-4:45pm; The Doerfels 5:30pm-9:30pm; and Mayday Mayday Band takes the stage at 10:00pm. Door change. Balloon drop and party favors at midnight.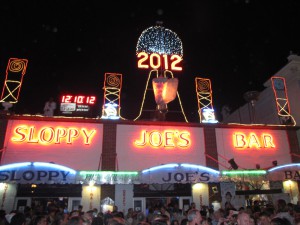 For more Key West attractions and daily Key West hotel discounts, visit keywestfinest.mobi on your smartphone. Click here to download the Key West Finest Places app for your iPhone, or here for your Android phone. You can also join the Key West discussion at conchfish.com