10AM – Closing – The Conch Republic "THIN BLUE LINE" MINIATURE GOLF CHALLENGE at BOONDOCKS, MM 27.2 Ramrod Key.
5:30pm – The Giant 7′ Key Lime Pie in Mallory Square, a benefit for the Key West Historic Memorial Sculpture Garden and the Military Memorial. Don't miss your piece of the pie.
6pm – Bloody Battle Non-Combative Shore-Side Viewing Party . . . the only place to view the Great Battle!!! Be a witness to the most brazen battle of the year, where the only thing you'll lose is your sanity. Viewing party will be held at the Ocean Key Resort & Spa on the Sunset Pier at Zero Duval Street. 305-296-7701. All are welcome!
7pm – The Conch Republic Naval Parade & Great Battle for the Conch Republic. Sponsored by the flagship Schooner Wolf, the Conch Republic's Army, Navy and Air Force's, this is the event of the Celebration . . . this is nothing like it in the known universe. In Key West Harbor.
9 PM – The Victory Party at The Schooner Wharf Bar…Come help us celebrate our victory over the evil forces of the "United States Border Patrol"… we always win! More info at www.schoonerwharf.com or 305-292-3302.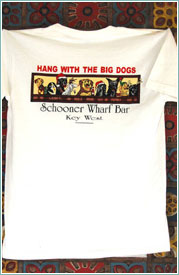 For more Key West attractions and daily Key West hotel discounts, visit keywestfinest.mobi on your smartphone.