10AM – 8PM – The Conch Republic "THIN BLUE LINE" MINIATURE GOLF CHALLENGE at BOONDOCKS, MM 27.2 Ramrod Key.
10AM – 5PM – The CONCH REPUBLIC CRAFTS SHOW & FOOD FEST
Sponsored by the Cultural Preservation Society. On Greene Street between Duval and Whitehead. Come embrace the arts, crafts & foods of the Conch Republic.
11AM – 5:00 PM – The CONCH CRAWL
Come to Conch Crawl Headquarters at Duval & Greene Streets to purchase your "I Survived . . ." T-shirt.
2 – 5PM – The Fairvilla Megastore 27th Annual Conch Republic Red Ribbon Bed Race benefiting AIDS, Help, Inc. The celebration's oldest and most famous event, the beds race down Duval from Fleming to the Hog's Breath Saloon. More information at www.Fairvilla.com or 305-292-0448.
5PM – Post Bed Race Party & Awards Ceremony at Hog's Breath Saloon, 400 Front St.
2 – 7PM – The Conch Republic Fiddler's Contest at Green Parrot Bar, 601 Whitehead. Terry Cassidy welcomes the best fiddlers in the Republic as they vie for awards in this "tune or die" jam of Bluegrass and Old-time music. Featuring two-time Conch Republic Fiddling Champ and Master of Ceremonies Gary Zimmerman, Bob Murphy, Chuck Anton and "On the Fly". Info at www.GreenParrot.com or 305-294-6133.
7 PM – THE PIRATE'S BALL AND PIG ROAST at the Schooner Wharf Bar…bottom feeders unite…we can't let the Upper Crustaceans have all the fun! Music, food, and always a good time! More info at www.SchoonerWharf.com or 305-292-3302.
7 PM – CAPTAIN'S MEETING for the WRECKERS' RACE at Schooner Wharf Bar. Info at www.SchoonerWharf.com or 305-292-3302.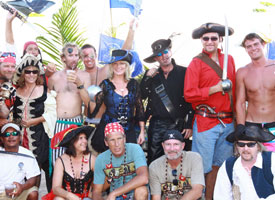 For more Key West attractions and daily Key West hotel discounts, visit keywestfinest.mobi on your smartphone.